Fire Safety Act 2021 and Fire Safety (England) Regulations 2022
Fire Safety Act 2021
The Fire Safety Act 2021 (the Act) received Royal Assent on 29 April 2021 and commenced on 16 May 2022.  The Act amends the Regulatory Reform (Fire Safety) Order 2005 (the Fire Safety Order).
North Yorkshire Fire and Rescue Service welcomes the commencement of the Fire Safety Act in England and Wales, and the Regulations in England, as important steps forward in strengthening the Fire Safety Order and improving fire safety. 
The Act clarifies that Responsible Persons (RPs) for multi-occupied residential buildings must manage and reduce the risk of fire for the structure and external walls of the building, including cladding, balconies and windows, and entrance doors to individual flats that open into common parts. 
The Act applies to England and Wales. Information on how the Act applies within Wales can be found on the Welsh Government website.
Fire Safety (England) Regulations 2022
The Fire Safety (England) Regulations 2022 (the Regulations) have been introduced as an important step towards implementing the recommendations of the Grenfell Tower Inquiry Phase 1 report.  The Regulations are being introduced under Article 24 of the Fire Safety Order and will come into force on 23 January 2023.
The Regulations apply to England only and can be found here.
Illustration providing an overview of the Fire Safety (England) Regulations 2022 (Source: NFCC, 2022).
These new regulations introduce additional requirements on Responsible Persons, aimed at identifying and communicating fire risk information to those who need to know about the risk. This includes providing fire risk information regarding evacuation procedures to residents in a format they will understand.
There is also a new requirement for the RP to electronically provide the Fire and Rescue Service with up to date risk information that will assist them in both planning and responding to an operational incident. This includes providing floor plans, information on external wall construction (when appropriate) and defective critical equipment such as fire lifts (if they are likely to be defective for more than 24 hours).
To facilitate this new requirement, we ask RPs to use the forms below to provide this critical information.
To provide floor plans, please submit these direct to capabilities@northyorksfire.gov.uk
For Word versions of the forms, please contact capabilities@northyorksfire.gov.uk
Where can I find out more information?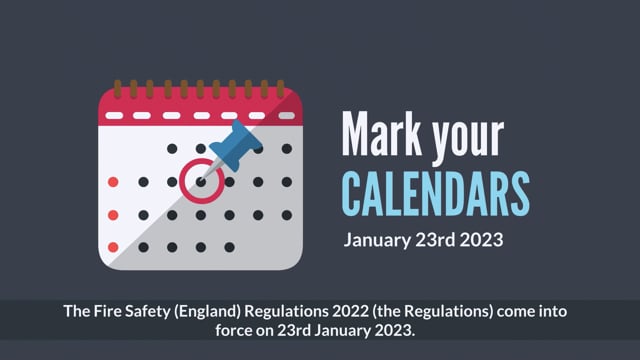 You can also find out more by visiting the NFCC website.
The Fire Safety Act can be found here with factsheets and guidance here. The Fire Safety (England) Regulations can be found here on the UK Government website.
A good practice guide for those involved in the management of fire safety in properties in the residential long leasehold sector, including resident management companies, right
to manage companies, managing agents, developers and landlords can be found here Fire-Safety-Management-in-Flats-February-Advice-Note-February-2023.pdf
The Home Office has produced a series of fact sheets which provide more detailed information on what the Regulations mean in England:
This supplementary guidance has been provided to support Responsible Persons on how to conduct routine checks on fire doors and provide information to residents. Fire Safety (England) Regulations 2022: fire door guidance – GOV.UK (www.gov.uk).
Information on how the Act applies within Wales can be found on the Welsh Government website.
---
Share: